Weekend
And again,
blogger
revises and changes their look. When will the madness end ?
So, my car is in getting the brakes fixed. This is great because it was grinding so much and it just sounds horrible. Whoever buys my car next will be really lucky because I have fixed so much on Lola that there really isn't anything left to do but drive her. I have decided that the car I will get will be brand spanking new. That way I won't have to deal with fixing it for about 5 years. Ha! if life were like that. I am carless for the rest of the day, and today happens to be the day where I have way to much to do. I am going away with
this blogger
and her
boyfriend.
We are heading up to Elora to meet up with Aaron and the rest of his youth group. How exciting!!! So, today was my day to go to the bank, pick up a new battery and film for my camera, and buy some other essentials. My car just happened to pick this weekend to start grinding. Oh well.
In other news, I have been doing a lot of praying and thinking about the future. You all know that I have decided to quit school. When I began at
Redeemer University
I decided to follow what my heart had wanted for so long, and that was to become a teacher. I lived for school, and wanted to learn so much that I decided to make myself a permanent fixture in the classroom. I came to Redeemer with the thought that I would major in English and History and minor in Psychology. And so it was. I was the overworked, underpaid, stressed out student like many of you are. I wrote a zillion essays, took courses that won't mean a thing to me down the road and made some pretty awesome memories. However, in the back of my mind I was almost running from the plans God had for me. I knew I was called to the ministry, in some area, and I had dedicated my life to that calling when I was young. I went alone to Portugal on a mission trip during highschool for a semester, where I took along my school work. I started a youth group and worship team with a few of the Angolan/Portuguese people. I felt so fulfilled. I knew that God wanted me to do missions work. Anyways, to make a long story short, throughout my life I have encountered friends who became young unwed mothers, friends who have had abortions, friends who were suicidal and depressed, and myself who has struggled with an eating disorder for 8 years. I wanted to make a difference upon receiving my healing of anorexia. I wanted to share my story and open myself up to people who were suffering just like I did. I want to show them what God could do in their lives without pushing religion on them. So, I have decided to, and am looking into running a home, like a healing home, or a safe home where young girls can come and just find the healing they need. Anyways, so in case you were wondering what I plan to do with myself when I am not in school, this is the answer. I will be returning to school, totally. I just need some time off to reflect, heal, de-stress myself and embrace what God has planned for the future years.
Oh oh and I promised camping pictures...
The walk down to Lake Huron
Me after just seeing Prof. Cook.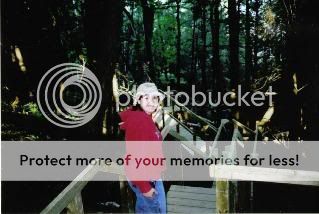 Carrie going down to the beach
I would have published these on my photoblog, but I forgot the password...stink!